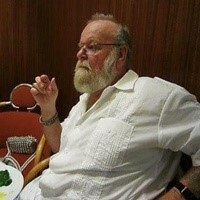 Ronald Lee Smith
Ronald Lee Smith, age 65, of Stockbridge, died Friday, November 16, 2018.
Mr. Ronnie Smith was the first IBEW Local Union 1997 Vice President until his passing, Ronnie was a dedicated Union Leader here at the Atlanta Gas Light Company in past years.
We were looking forward to working with Ronnie here at Local 1997 as our V.P., he will be sorely missed. Ronnie had 30+ year experience at AGL in the Service Department and was originator of several procedure documents that were adopted by
If Ronnie couldn't talk you into seeing things his way, he would playfully convince you. To his Co-workers he was a Man's Man, a brother and a Mentor until his death.
It is in his memory; we need to make this Local Union succeed and carry on Ronnie's working values and apply them to our Union Brotherhood here at AGL.
Ronnie rest in peace, until we meet again!